The International Waterlily Collection has been designated by the International Waterlily & Water Gardening Society as a premiere collection of lilies in existence. This collection is the life work of one man with the mind of a scientist, the heart of a poet and the soul that embodies preserving waterlily heritage for the generations to come. His name is Ken Landon. Ken is only able to display about 1/2 of 1% of the collection each year so there is always something new and wondrous to see.

Where does it exist?
The collection is displayed at Civic League Park in San Angelo, Texas in the United States of America. Directions to the Collection.

What will I see?
You'll see old favorites, new hybrids, lilies that may not exist anywhere else in the world, huge Victorias, the spectacular N. Blue Cloud and the first glimpse at new species material collected in the wild.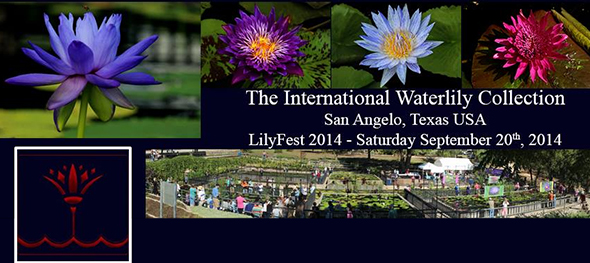 LilyFest 2014
We are on Facebook now. If you have ever been to visit and are a fan of The International Waterlily Collection, please join our group. We hope that in this way you can share your photos, videos and personal experiences. This is a way for you, the fans of Ken's life's work to interact with the collection. We might even contact some of you for permissions to use your materials on our site to help spread information to the world about this fabulous place. You must be a member of Facebook to join but it is free and a way to see people who share your interests.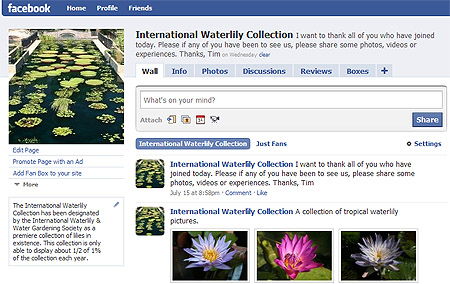 Search