The International Waterlily Collection has been designated by the International Waterlily & Water Gardening Society as a premiere collection of lilies in existence. This collection is the life work of one man with the mind of a scientist, the heart of a poet and the soul that embodies preserving waterlily heritage for the generations to come. His name is Ken Landon. Ken is only able to display about 1/2 of 1% of the collection each year so there is always something new and wondrous to see.

Where does it exist?
The collection is displayed at Civic League Park in San Angelo, Texas in the United States of America. Directions to the Collection.

What will I see?
You'll see old favorites, new hybrids, lilies that may not exist anywhere else in the world, huge Victorias, the spectacular N. Blue Cloud and the first glimpse at new species material collected in the wild.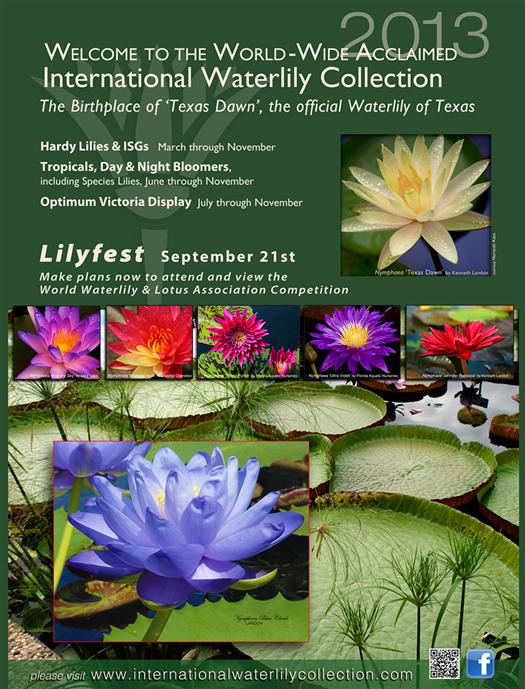 Commentary about the big Oak Tree in the park at the IWC
2nd Annual

New Waterlily Competition 
Sponsored by International Waterlily Collection and World Waterlily and Lotus Association
The International Waterlily Collection is hosting our Second Annual Waterlily Competition.
We invite all hybridizers who are interested in entering to fill out this form and arrange to ship your plants as soon as possible.  The plants will be grown out and displayed at the International Waterlily Collection (IWC) in San Angelo, Texas, USA.  
Initial guidelines:
1) The competition is open to any waterlily hybrid that has not been in the trade for more than one year and has not previously won any New Waterlily Competition.  
2) Divisions Hardy / Tropical / Intersubgeneric (ISG's)
3) Awards for the Best plant in each division with 1 overall winner
4) Limit of 4 entries per hybridizer
5) No entry fees
Entry Form in a Portable Document Format (PDF)for Multi-platform compatibility.
Reasons to enter the San Angelo Competition
1) Ken Landon
* Growing waterlilies for over 50 years
* World acclaimed grower, collector, hybridizer and conservationist
* Innovator of superior a fertilizer formulation, tuber production and tuber storage techniques.
* Perry Slocum and Kirk Strawn sent their newest hybrids to be trialed by Ken to see what their maximum potential would be
* Ken has work intimately with Patrick Nutt formerly of Longwood Gardens on growing techniques and preserving collections from such famed hybridizers as Pring and Randig
* Ken's efforts were featured in the New York Times and he recently received a Texas conservationist award
2) The waterlilies will grow under optimal conditions so it maximum growth potential and flower production will be realized. In 2012, plants grown in another competition only achieved half the growing size of those grown under Ken's expert watchful eye. We had Anecypha and Brachyceras entries that exceeded 12 feet (3.6 meters) and Nymphaea that exceeded 8 feet(2.4 meters). The image below has a standard 3 foot measuring stick. As you can see, the plant dwarfs the measuring instrument. If you want to enter a competition where your entry has the greatest chance to reach its maximum potential, the IWC contest is the perfect choice.

3) The International Waterlily Collection at San Angelo's Civic League Park is a botanical exhibit exclusively dedicated to aquatic plants.
4) A superb staff and team of volunteers maintain the exhibit in peak condition.
5) Civic League Park is free and open to the public 24 hours a day.
6) Lengthy growing season – March until November
7) High Temperatures and maximum sunlight availability assure excellent growing conditions.
8) The competition will be viewed by tens of thousands of annual visitors to the park
9) Outstanding publicity by the International Waterlily Collection's websites, the City of San Angelo and office of WWALA assure maximum public exposure of the plants and the competition.
10) Excellent photo and video documentation of the competition and all of the waterlilies.
11) The IWC is one of the top-ranked water gardens in the world.
New Named Waterlily Announced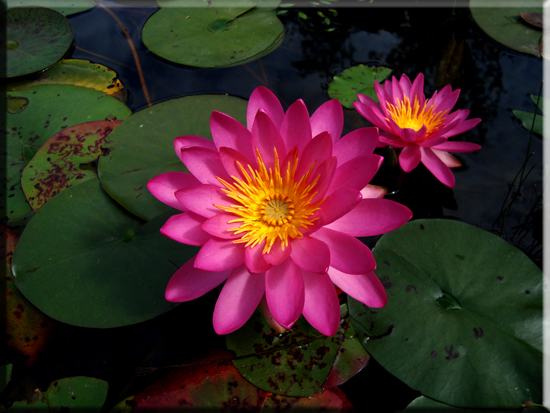 Funding for the Architecturally
Formal Waterlily Pool display.
LilyFest 2013
IWC / WWALA Contest
2012 New Waterlily Contest Entries – IWC - WWALA
International Waterlily Collection and World Waterlily And Lotus Association Contest
These plants were grown out for us by Ken Landon of the International Waterlily Collection.
Tropical Waterlilies
Nymphaea 'Tropic Punch' by Florida Aquatic Nurseries courtesy of Brandon McLane
Nymphaea 'Duangtasawan' by Dr. N. Nopchai Chansilpa
Nymphaea 'Tropical Illumination' by Garet Uemura
Nymphaea 'Paramee' by Roengshak Klinpayom
Nymphaea 'Nangkwaug Muang Prai' by Primlarp Wasuwat Chukiatman
Nymphaea 'Sirilarp' by Primlarp Wasuwat Chukiatman
Hardy Waterlilies
Nymphaea ' Fuchsia Pom Pom' by George Tony Moore
Nymphaea 'Lucky Red' by Surarin Nursery
Nymphaea 'Snowflake' by George Tony Moore
Nymphaea 'Sarannlarp' by Dr. Sam Wasuwat and Primlarp Wasuwat Chuckiatman
Nymphaea 'Citrus Twist' by George Tony Moore
Intersubgeneric Hybrids (ISGs)
Nymphaea 'Purple Silver' by Mike Giles
Nymphaea 'Tango' by Florida Aquatic Nurseries courtesy of Brandon McLane
Nymphaea 'Kiss the Sky' by Mike Giles
Nymphaea 'Deep Purple' by Florida Aquatic Nurseries courtesy of Brandon McLane
Nymphaea 'Purple Damselfly' by Mike Giles
We are on Facebook now. If you have ever been to visit and are a fan of The International Waterlily Collection, please join our group. We hope that in this way you can share your photos, videos and personal experiences. This is a way for you, the fans of Ken's life's work to interact with the collection. We might even contact some of you for permissions to use your materials on our site to help spread information to the world about this fabulous place. You must be a member of Facebook to join but it is free and a way to see people who share your interests.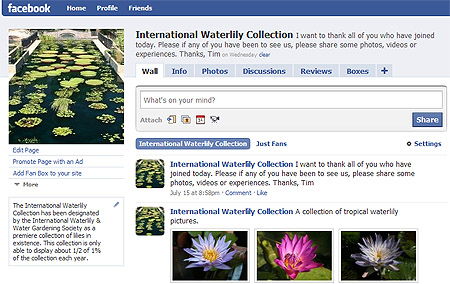 Search